Introducing DejaVoice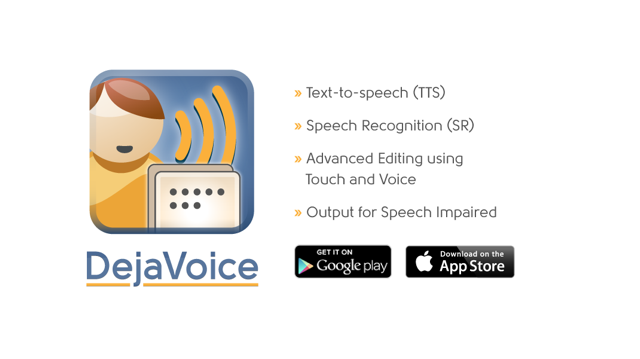 Click here to download from the Google Play Store
Click here to download from the Apple App Store
Click here to download directly on your Android device
Click here to see a video on how it works!
Voice to Text transcription - Speak it and it will be written. Dictate notes, stories, letters, and lists.
Automatic read back mode. Automation to dictate and then correct the text using either touch or voice controls. Special spelling correction and correction dictionary system.
Text can be stored by Folder and Subject, shared via Email or text, and imported from other "share" sources.
DejaVoice uses Google's voice engine. What sets us apart from Google voice is the following:
DejaVoice is designed for the business consumer.
The ability to correct once, or correct continually for words that Google Voice normally gets wrong.
Never misspell a client's name or key technical term again.
DejaVoice gives you the tools to get right and present it accurately.
DejaVoice allows for Audio Feedback editing.
Dictate while you drive via your Bluetooth headset and hear back the correct text without the distraction of typing on a mobile screen.
Make an ad-hoc note; store it, make more notes, email them, make another note, and send it to someone. All without hitting a single button!
DejaVoice can generate word lists, subject lists and store key phrases.
Transmit a complete word list or text list to someone else via playback, email, or SMS.
Use DejaVoice as a communication tool. Just tap on the desired phrase to "say it" remotely.
An ideal tool for people who have impaired hearing, speaking or tapping capabilities.
DejaVoice works best with a microphone, which eliminates the need to have your phone in your face all the time.
Bluetooth headsets are fully supported for both speaking and listening on devices running Android 4.0 and higher. Just turn on your headset, start DejaVoice, and start talking.
We look forward to opening a new way of entering large amounts of text with your mobile device, and in so doing releasing you from being tied to your office computer.
Click here to learn visit the DejaVoice Classroom.