Smart home technology comes with many benefits and they are worthwhile in the long run. It not only adds convenience to your life but also increases the value of your house. This is highly beneficial if you are thinking of putting your house for sale.
Smart home tech has the ability to positively affect the sale of your property. In other words, if you have not thought about investing in smart home gadgets, it's high time you do. According to a survey, 40% of real estate against shared that smart homes tend to sell much faster despite their price.
Let's be honest. A connected home that has upgraded smart home tech will indefinitely attract young buyers. It's important to keep in mind the demographic of your potential buyers, especially if your target market is millennials. You can also see at Mynd Property Management that the same upgrades work for investment properties too.
When you invest in the right type of smart device, you will be able to move house at a much faster rate, alongside increasing its value. Moreover, today's young generation is usually willing to pay more for a smart home that already has smart tech in them.
In this article, we will be sharing 4 smart home upgrades that will eventually pay off in the future. The payoff comes in the form of an increased selling price, more potential buyers, and a quicker sale.
Smart Thermostat
There is no surprise that a smart thermostat is the one thing in the smart home tech that will pull in more buyers. Many home buyers now have a strong interest in the energy management of smart home tech.
There is no doubt that thermostats have been around for decades. As technology advanced, smart thermostats were introduced. Smart thermostats connect to Wi-Fi, allowing the user to control and manage the thermostats from its app on your smartphone.
Moreover, smart thermostats can be accessed remotely. In other words, you can turn the cooling or heating before you get home. In fact, this smart device learns your cooling and heating habits and also suggests energy-saving settings that help you save money in the long run.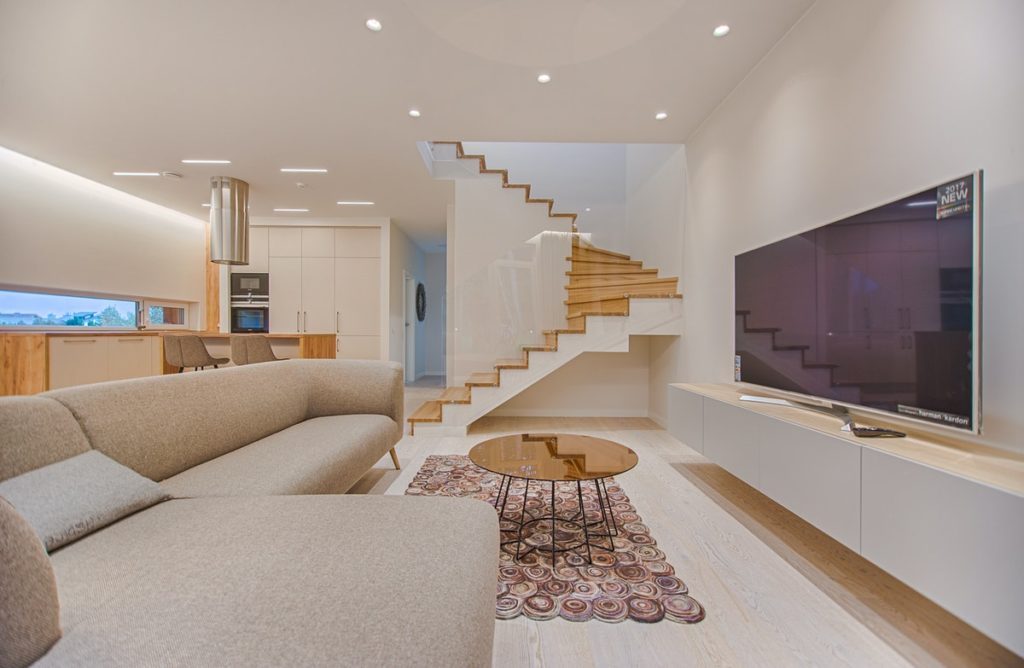 Smart Lock
Another smart home upgrade you should consider is smart locks. Today, there are DIY smart devices that are very easy to install, and among them are smart locks. Smart locks add an extra layer of security to the house.
The best smart locks give you remote access that has similar features to a smart thermostat. You can lock and unlock your door through your smartphone and if you have the bad habit of forgetting if you locked your door, you can check via its app and lock it if it's not locked.
Moreover, some smart locks also have a feature that comes with e-mail notifications and tamper alarms that alert you of who has been coming and going all in real-time. In fact, you can pair your smart lock with Google Home Smart Assistant Speaker to automatically lock and unlock your door when you are at home.
Smart Security Cameras
This is another smart home tech that has been booming lately. This is why we think investing in a smart security system is another selling point, in fact, the biggest selling point for your property in the future.
Smart security cameras are rather easy to install and lucky for you, these days smart devices can be found in almost every other electronic store. You can also choose to order them online if you want a better variety.
When discussing security cameras, there are many types to it. In the majority of cases, people tend to install security cameras at doors that lead people into their homes, alongside living rooms and bedrooms.
Images captured by security cameras are then stored in the cloud, meaning you don't need an external hard drive to store all the data. However, some security cameras need a subscription for you to access all the footage.
Smart Smoke Detectors
Apart from smoke detectors alarming the user when there is smoke detected in the home, a smart smoke detector has the ability to send alerts to your smartphone so that you can take prompt action.
Moreover, some smart smoke detectors will also alert you if their batteries need to be replaced. This smart device won't ring false alarms, meaning you will also be at ease knowing that if it goes off, it really is an emergency.
Investing in a smart smoke detector also helps save money because certain insurance companies offer reasonably low rates if the home already has one installed. They are easy to install, maintain, and use.
Lighting Control
Try smart lighting and dimming control to save money on your electricity bill. Smart lighting will produce less energy and can be added to any new home or renovation. Try Lutron lighting control for a simplistic approach to home automation. Programmable presets can be incorporated into lighting scenes or given their own button on conveniently located keypads
Conclusion
Buying a house is a milestone achieved, but sometimes there comes a time when you need to move into a bigger one or change location. Having smart tech at home will increase the value of your property, allowing you to make a better profit.