There are many tools that can help you be more productive and work better. But one of them takes the cake as the most versatile and customizable – the virtual whiteboard. In this article, we'll be taking a look at how this handy tool can help you reach new levels of creativity and productivity. Are you ready? Let's have a look!
What is a virtual whiteboard?
The main idea behind a virtual whiteboard is to provide teams with a tool that will help them collaborate remotely. A whiteboard helps better visualize concepts and ideas, write down new business plans, explain and teach new concepts and even serves as a good canvas for mind maps.
Virtual whiteboards have the same purpose as their real-life counterparts, with the added benefit of saving everything into the cloud. They usually come in the shape of web or mobile apps, supporting teams from everywhere to collaborate visually, no matter where the members are located.
Every team member will log in to the same whiteboard as the rest and can add their ideas and concepts, while the entire team watches in real-time. Everyone can interact with the content that's being added if needed. Sure, you can use real whiteboards during video calls but that would overcomplicate things – why use an outdated method when you have a digital version available?
Now that we've seen what a virtual whiteboard is, it's time to move on to some benefits.
Why use a virtual whiteboard?
Because it comes with the convenience of a real whiteboard, with none of its disadvantages. A virtual whiteboard comes with the following advantages and features:
Infinite space. How many times have you had to wipe down good ideas just because you couldn't fit the next ones? With a virtual whiteboard, you will never have to deal with this issue, as it comes with infinite drawing space. In addition, everything is saved straight into the cloud, so no idea is ever lost.
Rating of ideas. The great thing about virtual whiteboards is that they allow for voting and rating of ideas without breaking the discussion flow. After a call, the members of your team can rate the ideas presented with visual content and you will get a report of their votes after that.
Multimedia content. With a virtual whiteboard, you can add images and even videos to make your content more interactive. It's a well-known fact that people tend to learn faster when presented with visual content so this is a great feature to have.
Connectors, shapes and text. As we previously mentioned, a virtual whiteboard is the perfect canvas for mind maps. So if you and your team are always coming up with new ideas using mind maps, a virtual whiteboard will help tremendously.
Sticky notes and pens. A virtual whiteboard comes with all the tools of a physical one. However, you will save up some space because you won't have to carry pens and sticky notes with you all the time. Simply select these features from the menu and add them to your whiteboard. It's that easy.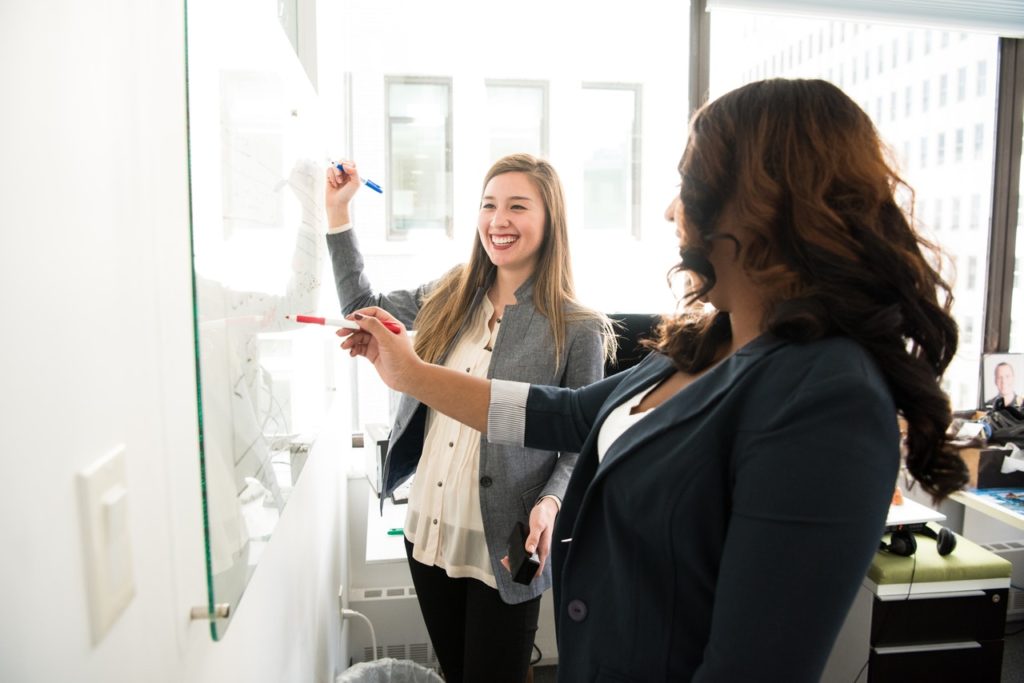 What are the uses of a virtual whiteboard?
There are many uses for a virtual whiteboard, depending on what you want from it. In the section that follows, we'll list the most common ones.
Online Workshops
With a virtual whiteboard, you can fully move your workshops online. You can even hold them remotely if needed. Usually, during workshops, presenters will need post-it notes, cards, pens, and questionnaires – worry not, a virtual whiteboard has all of these tools already integrated! You will not have any issues when digitizing your workshop.
Presentations
Let's face it – PowerPoint presentations are simply boring. They're too static, as they're limited to a few phrases per slide and it will be hard to keep your "audience" engaged. With a virtual whiteboard, however, you can better illustrate and help the other visualize what you want to say. Of course, it's not a full replacement for the classic PPT, but it sure is a better way to do it.
Brainstorming Sessions
Business is all about new and fresh ideas. That's why teams occasionally organize brainstorming sessions at the office. However, if your team is working remotely, you can always use a virtual whiteboard as a place to gather new ideas, generate fresh concepts and discuss new perspectives.
Mind Maps
Mind maps help you create, manage and visualize concepts. As we mentioned, the virtual whiteboard is the perfect canvas for a mind map, as you can use all the different tools and features to create your mind map. Virtual whiteboards are not only limited to text, so you can add various pieces of media to make your mind map pop.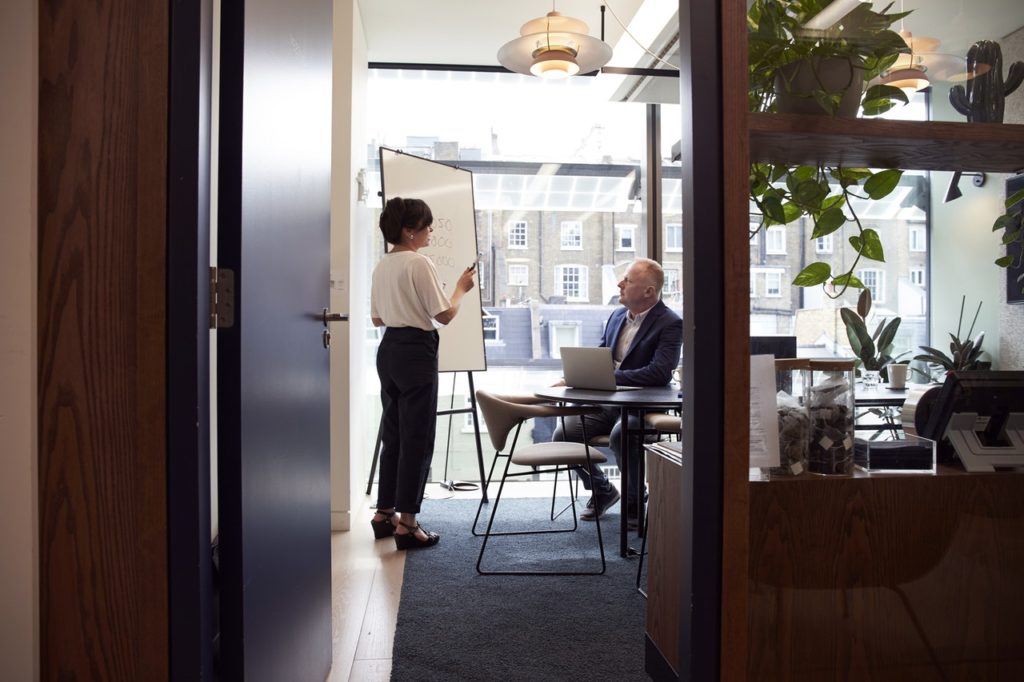 Planning and Decision Making
If you're planning an event or a new project, a virtual whiteboard will help you get everything on "paper" faster so everyone can better visualize the steps. Alternatively, if you have a business decision to make, it's always good to have all the information available. On a virtual whiteboard, you can display every relevant element that will help you make a better decision.
Teaching and Training
A virtual whiteboard is a perfect tool for long-distance teaching and training. It will act as a digital classroom, where your employees or students will be able to take and leave notes and better visualize the concepts you're teaching them.
Our Final Thoughts
As you can see, there are many uses and benefits that come with a virtual whiteboard. The best thing – the canvas is infinite. And when you don't have to worry about space or resources, it's easier to focus on what truly matters – increasing productivity and coming up with great new ideas and perspectives!