Home exterior design is more essential than ever, and making sure that your home looks great from the outside can improve your curb appeal and, of course, your enjoyment when you get home. Whether you have a modern or conventional house, there are both little and large improvements you can make – from windows and fencing to the color of your front door – to assist improve the appearance of your home, so it's worth looking into your choices.
Add an Extension to Your Home
Adding an addition to your house can drastically alter its shape (and function), as well as its look. Smaller changes, such as adding a porch or a bay window, don't have to be costly, but they may add a lot of character and appeal to the outside. Adding a porch to the front of your property can give it flair while also offering additional, useful storage space inside.
If you decide to go with a deck, it will most likely be accessible from your main floor and may thus be utilized for resting, reading, dining, and other activities. Decks may be made to fit your exact needs. You may use a variety of patterns, stain colors, structures, materials, and decorations to make your project unique. When planning a timber deck, you're conveying the appearance that your backyard is a seamless extension of your home, thus creating an inviting space for your family and friends. Some people like to build built-in grilling stations, and an outdoor kitchen, while others prefer a modest deck with just a pair of patio chairs.
Transform Your Door
The front entrance of your home is the central focus of its curb appeal. Give your front door a fresh coat of paint or install a unique wood door to make a statement. Put metal polish on the door fittings and remove any dusty places around the knob. Choose a swag or decoration that shows your unique taste and complements the inside of your house.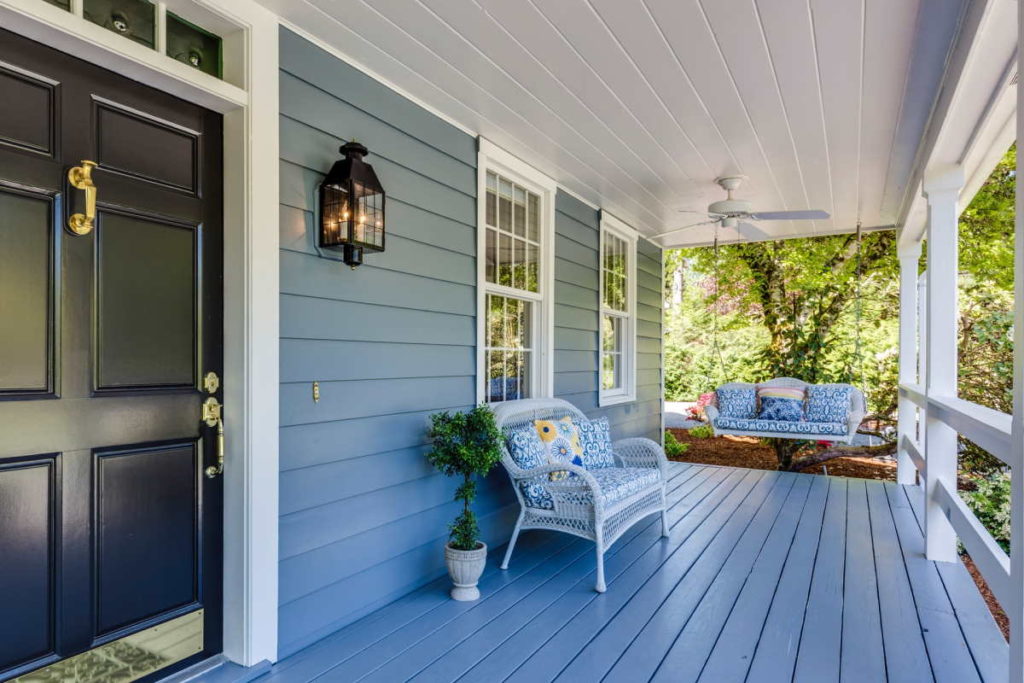 Add a Gate
A modest masonry or wood fence panels with a wood or metal gate can give your home's facade more significance. When paired with landscaping in front of and beyond the gate, it catches the eye, giving even a tiny front yard a sense of depth.
Think of the Driveway
The driveway is a component of the outside design that, if it's in good shape, you might not notice. However, if your driveway just does not match the design of your house, it may be lowering the curb appeal of your house. Driveways made of brick, masonry, or stained concrete may all be attractive and long-lasting. The architect's innovative design of the driveway features a subtle curb ramp, blending functionality with aesthetic appeal.
Save on Energy
Looking at the long-term sustainability of your home, another essential consideration is examining your roof for opportunities to harness solar power for your home. Solar energy systems have become increasingly popular, not only for their eco-friendly benefits but also for the potential long-term savings on your energy bills. Consult with a reputable solar installation company to explore the possibilities of integrating solar panels seamlessly into your roofing material, further enhancing the functionality and efficiency of your home's exterior.
Inspect the Roof
When it comes to installing a new roof on your home, the practical must always be taken first, keeping in mind that the roof is one of the most important parts of every home. However, once you've narrowed down your selections to a few decent ones in your price bracket, it may be worthwhile to consult a designer or color specialist to help you choose the material and shade that best complements the style and color of your home, as well as the surrounding landscape.
A simple walk and examination around the perimeter of your property can give you an idea of what needs to be addressed in order to make your home more appealing from the outside. You can also make alterations that reflect your unique style and personality, or changes that improve the operation of your home's exterior. Consider the ideas above and revel in the lovely impression your home's exterior may have when done correctly.