How do you expect to market your business without using technology? Consumers no longer turn to high streets and town centres to find products they use search engines. If you do not have a presence on the internet (which is unachievable without technology) then there is no way for your audience to find you. Being invisible and undiscoverable will hurt your profits and significantly reduce your chances of transforming your business into a commercial success. Put simply, antiquated marketing methods need to be supplanted with more modern ones. You need to begin using technology to market your business if you want to make something of your business.
However, not everybody is familiar with the latest marketing trends and very few people have any knowledge whatsoever about the technology that's used by marketers in the modern world. Billboards, flyers and posters are things of the past; marketers instead rely on search engine optimisation, influencers and social media platforms. If you are a business owner interested in marketing your own company rather than outsourcing it to an agency then this post will tell you about the latest trends and all of the marketing technology that you need to be using if you want to achieve success.
Using Social Media
You don't have to be an expert to know that social media is the best place to market your business in the modern world. As mentioned earlier consumers no longer turn to high streets and town centres to find products and services anymore. Most people's first instinct when they are searching for something to buy is to turn to a search engine or social media platform. The innovation expert Kurt Uhlir makes it abundantly clear in many of his posts that social media is a valuable tool for marketers and researchers. You can use it for just about anything.
If you are intending on using social media to sell products then you need to find the platform that is right for your business. Bear in mind different platforms attracts different demographics. Younger people gravitate more towards Instagram while older people continue to use Facebook. You need to find the platform that your audience is congregating on so that you can target them and begin marketing products to them. Until you have found their preferred platform reaching them will not be possible.
Search Engine Optimisation
Search engine optimisation is without a doubt the marketing world's most valuable tool. It is something that is used by businesses from a variety of different industries and of varying levels. Certain types of marketing are only used by specific types of businesses but SEO is used more or less by everyone, from the smallest to the largest companies; however, it is also a very technical area of marketing that can take years of practice and research to understand and truly master. As such it is probably a better option for you to hire a marketing agency to manage SEO for you if it's a method you are interested in incorporating into your company's wider marketing efforts.
If you plan on hiring an agency to represent you in cyberspace, you need to find one with lots of positive reviews. An abundance of positive reviews can be a very good sign and in most cases indicates that a company is worth hiring and can be trusted; likewise, an absence of positive reviews can indicate that a company cannot be trusted (although it does not always indicate this, as sometimes people leave no reviews at all unless they have had a negative experience).
Email Marketing
Email marketing is another very popular tool although it's usually only something that is used by successful, large businesses. The reason small businesses tend not to use email marketing is that in order to incorporate it into one's marketing effort businesses have to have large mailing lists. Attracting a large mailing list is not easy. If you are interested in email marketing then start building your mailing list by offering discounts and promotional codes to customers. Offering them these things can be an effective way of encouraging them to do business with you.
A unique style of marketing that falls under email marketing's umbrella is email retargeting. Email retargeting involves sending messages to people who were browsing your website or who put items in their cart and then left, reminding them to come back and complete their purchases. Email retargeting is a method that is growing in popularity mainly because you do not necessarily need a large mailing list (or any mailing list for that matter) in order to send out emails to people. All you need to try this method is a subscription with a retargeting service.
Sending SMS Messages
SMS marketing is a style that is very similar to email marketing and therefore can be used in combination with it. As with email marketing a mailing list is required otherwise SMS marketing cannot possibly work. Until you have a sizable mailing list there is realistically no way for you to begin using this method. Like building an email list, you can build your company's SMS list by offering discounts. You can also ask people if they want to sign up for your company's SMS list when they buy products from you. Some companies actually automatically sign people up for their mailing list, giving them the option to opt-out at checkout. The vast majority of people are in such a rush to buy whatever they are buying that they do not opt-out.
If you intend on building your mailing list in such a way then you need to make sure that you give people opportunities to opt out at various points. Messages you send should be accompanied by a number for them to text if they want to disengage from your company's marketing messages. Forcing messages on people can be a good way of irritating and alienating them.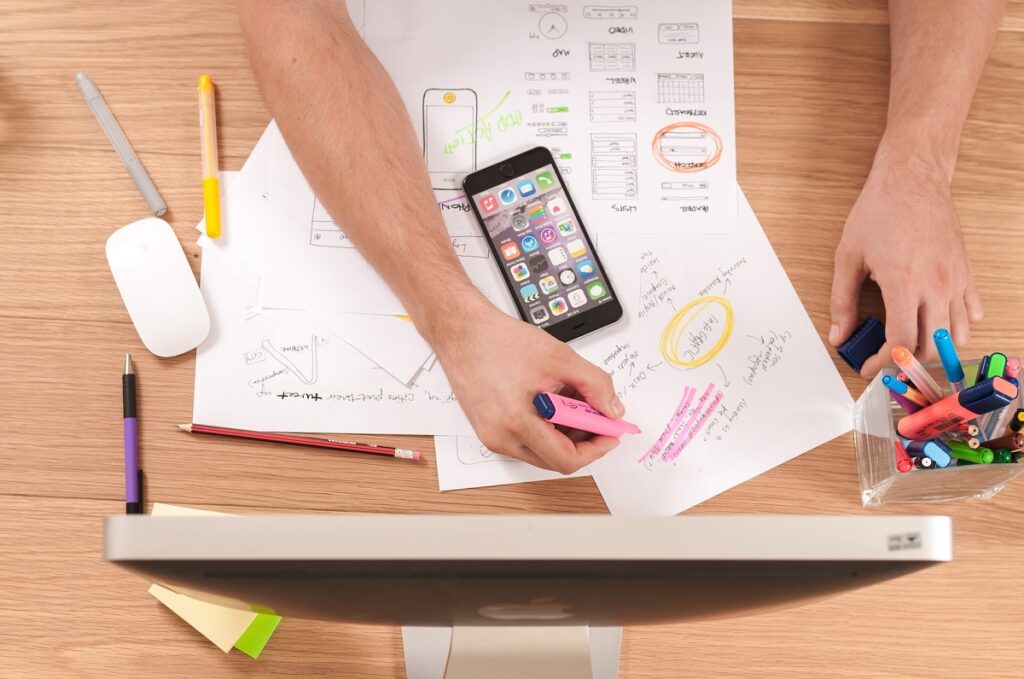 Content Production
The production and creation of content can be a good way of marketing your business. Many experts including Kurt Uhlir consider content marketing to be one of the best methods of marketing in the modern world. You can use it to showcase your expertise on the products you sell, discuss your niche and explore topics and subjects unknown to people who're not experts in your industry. Producing content is not something that is easily done, however. Many business owners do not have the time to write their own content.
If you do not have a lot of time and definitely don't have the time to spend hours each day writing content for your website then you might instead want to hire a writer to manage content production for you. All over the internet, you can find freelancing sites where writers congregate to find work. These sites can be fantastic places for you to turn to if you are interested in finding somebody to write for your website. Always vet writers and never blindly hire them. Make sure they are truly qualified and have experience and knowledge about the industry or niche that your business operates within.
Video Advertisements
Video advertisements are an extremely popular form of marketing that makes use of some of the latest technology there is. If you are interested in using video advertisements to market your business then you need to hire a video editor. One of the easiest ways to advertise yourself via video is by using a streaming platform. Most streaming platforms will allow you to post advertisements in content creators' videos; posting advertisements on other people's videos can build your reputation and help you to get exposure. Bear in mind you should only ever post advertisements on videos relative to your niche.
You can also post videos advertising your business on streaming platforms without posting actual advertisements, i.e., videos featured in the advertising breaks of other people's videos. You can post videos where you discuss your product, the benefits of using it, and explain how to use it. Make sure that when you are posting videos they are carefully thought through and directed. Do not make the mistake of thinking that you can post videos that are not made to a high standard. Such videos will annoy consumers if anything and ruin your chances of achieving commercial success; they will make you look unprofessional.
Machine Algorithms
More and more companies are starting to use machine algorithms and automation software to help them market their businesses; the use of machine algorithms has become very common in business today. Some of the tech industry's leaders like Elon Musk are starting to advocate for the use of artificial intelligence over manual labour. Going back to content for a moment, if you want to have content produced for your website you do not technically have to hire a real person to do this for you. Rather than hiring somebody, you can just use a machine algorithm to do it; using a machine algorithm is without a doubt the best way to produce content because it is free and highly accurate as far as the quality of content produced is concerned.
Those intending on using machine algorithms to produce content for their websites should know that in some cases it's easy for readers to spot that they are not reading something created by human beings. Many bloggers have started fighting back against content agencies, refusing to accept content that has been produced using artificial intelligence. If you are posting blog posts on other people's websites then check with them first before you begin sending over AI-written content.
Voice Searches
Voice searches are becoming very common online. For a long time, people have coveted devices with touchscreen capabilities. However, the average mobile phone user is choosing to use voice searches instead of using touchpads. Voice searches allow searches to be made a lot more quickly. One of the easiest ways to accommodate these searches is to create posts on your website that include a lot of keywords. When people are making voice searches they usually blurt out a string of keywords relevant to their search, so they can find the content that is right for them.
If you are planning on including keywords in your site's content then you will be pleased to know that this can also be an effective way of improving your site's SEO. SEO as mentioned earlier is a great way to make your site more discoverable as it manipulates the algorithms of major search engines and pushes your website right to the top of search listings, making it possible for you to outperform your competition. If you are planning on using keywords then you need to conduct extensive research and find the ones that are right for you and your business; there are tools you can use to do this.
Data Analytics
The use of raw data has become a fixture in the marketing industry and it has been for a long time; before however, data had to be collected manually. In order for it to be interpreted people had to physically sit and trawl through huge strings of data. Now, however, technology can be used to collect data and then understand it. While data scientists are still in demand (and there is a limit to how much technology can do) data analytics software is saving businesses a lot of money and preventing them from having to hire specialists to manage their data needs.
If you plan on using data analytics software then you need to take steps to protect the integrity of the data that your organisation processes and uses. Unfortunately, crime is rampant on the internet nowadays and if you do not take measures to protect the data you have collected it could fall into the wrong hands. If data does fall into the wrong hands then you could be held accountable by regulatory bodies. Being held accountable could result in your business or you personally receiving a fine.
Unless you have tangible marketing experience you will likely have trouble determining which solutions are best for your business. You don't need to be an expert thanks to the abundant online guides written and designed by experts like Kurt Uhlir to simplify marketing for the masses. Conduct extensive research and find the solutions you think will suit your business.