With the world garbage problem, the switch to producing sustainable goods has been an ongoing effort by many business owners. It has been led by different clothing brands around the world to reduce waste.
The industrial way of production of each clothing piece consumes too much energy and water that causes significant harm to the environment. Also, clothing and textiles pile up fast in landfills because of fast changes in fashion trends and the use of substandard synthetic materials to cut the production cost.
If you are thinking of starting up a business, sustainable clothing is the way to go. That said, here are five organic clothing business ideas to kickstart your sustainable fashion brand:
1. Organic Cotton Tees 
Organic cotton is one of the most common sustainable clothing materials. It is made without the use of harmful chemicals and pesticides, unlike the widely-used natural cotton. Plus, clothes that are made of 100% organic cotton are breathable and durable, making them perfect for everyday wear.
Printed cotton T-shirts are a great starter for a new brand. It is basic and easy to market. They are easy to customize since you can find ready-made shirts available in the market. Then, you can start creating unique designs with the help of graphic artists and designers.
After finalizing the designs, you can now start printing. You can find online shops that offer custom organic T-shirt printing that also provide different clothing styles to print on. Make sure that the manufacturer follows the ethical standards when it comes to sustainability to pass down truly ethical products to your customers.  
2. Babies And Kids Clothing 
Clothes are often thrown away when no longer worn, and babies' and kids' clothing are one of them. Since kids grow up fast, there is a constant need to buy new clothes. Therefore, opting for sustainability is a must.
For babies' and kids' apparel, there are lots of organic options for fabrics like cotton, linen, and bamboo. These organic fabrics are often hypoallergenic. It means they are perfect for those who have sensitive skin. In addition, they are also great for absorbing moisture and sweat, which makes them suitable for active kids.
While synthetic fibers may take a hundred years to be broken down, fabrics made from purely organic materials are biodegradable. If organic cotton and linen, not mixed with synthetic fibers, this can be decomposed within months, while bamboo fabric may take a year to biodegrade. It can help reduce the textile waste in landfills.
Organic clothing's biodegradability makes them perfect for babies' and kids' clothing. There is no need to worry about how much textiles from these small clothing pieces end up in the landfill.
3. Crocheted And Knitted Clothing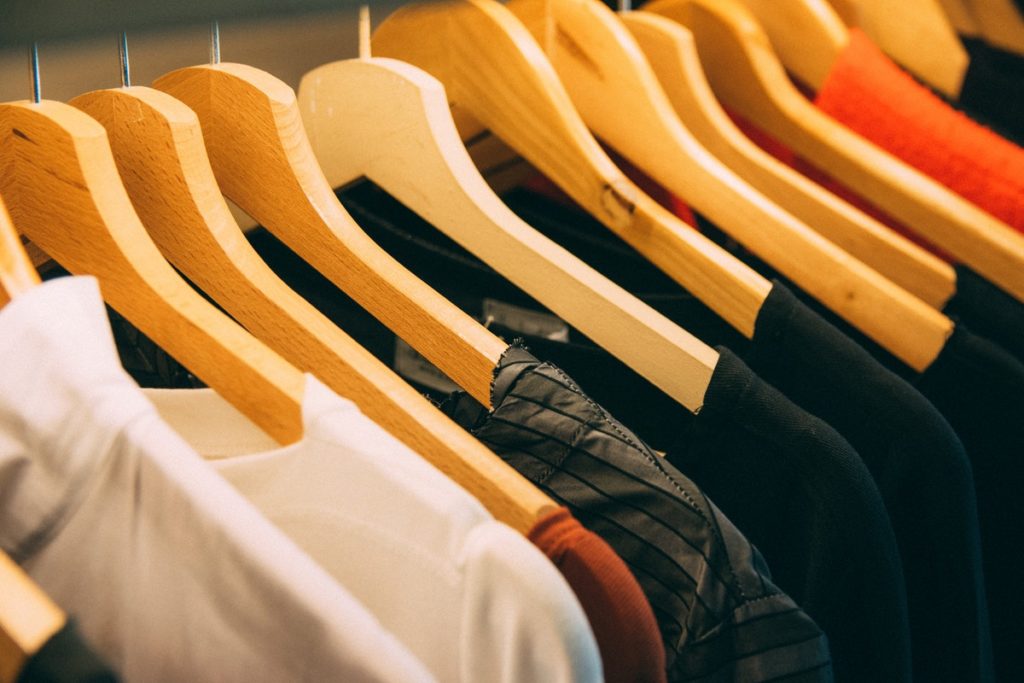 If you're looking to start an eco-friendly business that you can DIY, crocheting and knitting can be good options. With the use of yarns made from organic fibers, you can create and sell unique fashion pieces that are sustainable. 
Aside from clothes, you may also add beanies and bags to your collection. When it comes to crocheting and knitting, you can easily customize the items depending on your preferred designs.
The only downside of this option is the amount of time and effort it might consume, plus the creative skills you need to have beforehand. Nevertheless, this could still be a great option if you're looking for a project that would push you to improve your knitting skills.
For starters, you may take pre-orders to make sure your products will sell. Also, producing custom-made crocheted and knitted clothing will require ideas and suggestions from your client. This can make a fun collaborative project.
4. Organic Denim 
Denim jeans are a common element in everyone's wardrobe. It's easy to wear with any piece, and it never goes out of trend. However, the amount of damage that the production does to the environment must not be ignored.
As a solution, more and more clothing brands are now switching to organic denim. Unlike traditional denim, this organic option is made with pure organic cotton and dye. It also takes less water and energy, and no harmful chemicals are used during production.
To follow this change as a developing fashion brand is a smart move. Denim is a timeless fashion piece, and you can make it even cooler by considering sustainability. Plus, following ethical standards towards sustainability in production helps create more green jobs.
5. Vegan Cactus Leather
Another great option for starting your venture as a sustainable brand is vegan cactus leather clothing. This unique leather is organic, sustainable, and highly ethical compared to traditional leather from cow's skin.
Leather made from cactus is highly durable yet biodegradable. It can be used for different clothing styles, as well as for shoes and bags. Although the production costs might be higher compared to synthetic leather, its long-term benefit for the environment is priceless.
Moreover, the number of fashion brands that use cactus leather is just starting to grow. If you are planning to launch a unique, sustainable fashion brand, this option should be on top of your list. 
Conclusion
Starting up a sustainable fashion brand can be challenging. However, thinking about conserving the environment by ensuring your business' positive impact on the world is one great step towards success.