Professional YouTubers have been in the industry for a long time and produce high-quality material on the popular video platform, so you must stand out in terms of quality. If you're searching for the best YouTube intro creation platforms, here's a list of some of your finest choices for creating highly professional-looking YouTube video intros.
Every video begins with a fantastic introduction. If your video is not of high quality, viewers will disregard it and move on to the next choice. Make sure your YouTube video has a captivating intro, excellent educational material, and a fantastic conclusion.
YouTube is quickly expanding in terms of both audience and video creators. At the same time, competition among YouTubers is growing.
As a result, you must ensure that your video is attractive, of good quality, should be unique and provides valuable information or amusement.
Top 5 Intro Makers for YouTube
1. Wideo
Wideo is an intro builder with several useful features for quickly creating an animated intro video. One of the greatest features of Wideo is the ability to store your favorite sequences and simply reuse them across all of your movies.
You may also personalize your clips with over 100 themes, numerous fonts, and colors that match your brand. Wideo also allows you to organize your movies by saving them in folders or downloading them in full HD and MP4.
The disadvantages are that you must be online to utilize this web-based intro creator, and the membership price is more difficult to justify when compared to other platforms due to a cumbersome interface and restricted templates.
As with other software, it's cheaper to sign up for an annual Wideo membership, which makes their starter plan $19 per month. This includes 10 1-minute video downloads each month and 20 video templates to pick from.
All of their premium subscriptions offer a free 7-day trial period; however, downloads are not included.
2. Flixpress
Flixpress is another cloud-based intro builder that allows you to quickly and easily produce a video introduction. One of the primary benefits of Flixpress is that you will not need to download a large file to utilize its capabilities.
It's simple to use and you can get started online in minutes. While the platform requires an active internet connection, it does allow you to create videos on almost any device with a web browser.
You may use Flixpress to make video previews that can be layered with royalty-free music from their vast audio collection. As a disadvantage, the general appearance of their themes and website is a little antiquated.
While Flixpress is a free intro builder, its functionalities are severely restricted. You get two minutes of video time each month, a watermark, 15 templates, and 360p video quality.
Subscriptions range from $0.83 per month for an annual Personal plan to $79.99 per month for an Enterprise subscription. All of which erase the watermark, allow 1080p video quality, and provide scalability of video minutes and themes.
3. InVideo
It is a full-fledged video creation suite that enables video creators to seamlessly create appealing videos. The tool is entirely cloud-based – which means that you don't need to download any software locally and all the video processing happens on InVideo's servers.
Once you log on to the platform, you are presented with a host of templates that you can leverage for creating videos for any requirement imaginable.
Moreover, this feature-packed YouTube Intro Maker even allows you to upload your own videos and make adjustments to them. However, there are a few caveats too that bring the experience down a notch.
For instance, once you choose a template, you are pretty much stuck with it and you have to start over if you want to change the template. Also, the editing video is a bit cramped which requires some extra effort on your part.
It comes with a free plan that includes a watermark in the videos. The Business Plan & the Unlimited Plan are billed at $15/month & $30/month, respectively. All of the sign-ups come with a 7-day trial.
4. Ivipid
Ivipid allows you to create fast and entertaining intro videos for your social networks. While Ivipid will not help you produce a highly polished, professional video, it will provide you with a variety of funny and kitsch video templates, many of which imitate the intros of major Hollywood film studios, such as MGM's iconic roaring lion.
It's a simple three-step procedure that involves selecting a template, modifying the text and logo, and finally downloading your clip for distribution. However, if you're looking to establish a solid brand identity, this is probably not the intro creator for you.
Ivipid does not have a free version. Instead, it employs a perplexing credit system. Essentially, the more credits you purchase, the better the resolution of your opening video.
So, for $1.99, you may get 200 credits, which allow you access to one pitiful 270p film — approximately the lowest resolution available. If you are ready to pay $6.99, you will get full 1080p quality.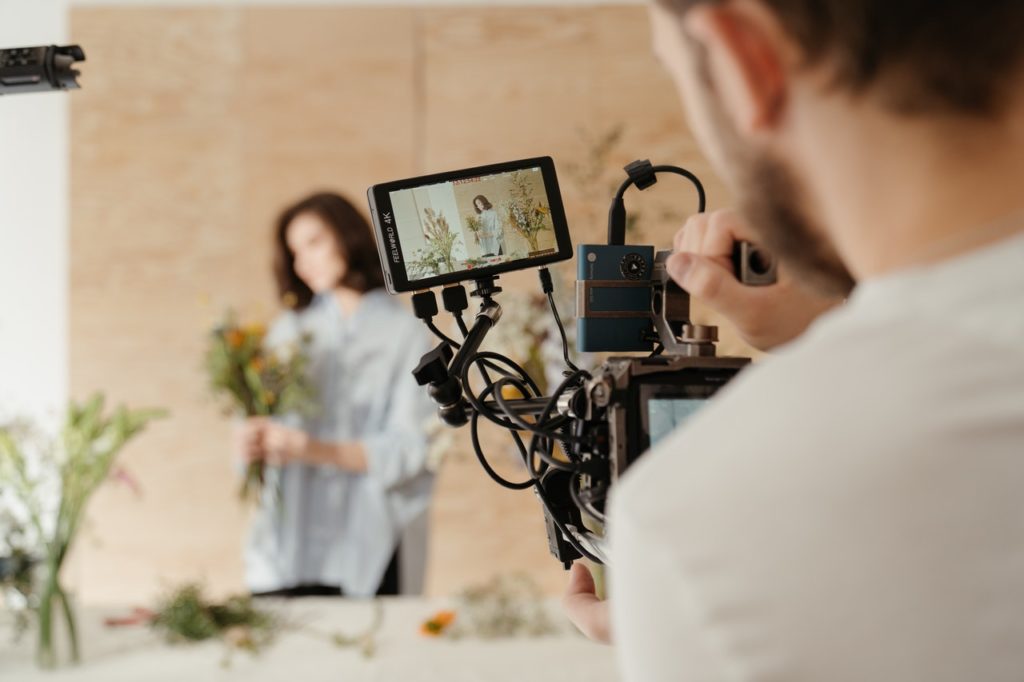 5. MotionDen
MotionDen allows you to create unique animated intros by using their library of ready-made professional templates, which is unquestionably their greatest strength.
These are organized into logical categories, such as eCommerce or YouTube, to help you easily choose the appropriate design for your use case.
The customization editor is simple and easy to use, allowing you to experiment with your text, colors, and background music to make an intro in minutes.
According to Trustpilot reviews, MotionDen is prone to crashing and renders movies slowly. MotionDen does not need a credit card or a trial period and allows you to make up to five movies utilizing their full video template library.
You will, however, have to put up with the terrible watermark. You may remove it and upload HD quality videos directly to YouTube for $9 per video or $39 per month.
Conclusion
Creating an intro video for your YouTube channel, or promotional clips can be immensely helpful in marketing your business.
With our study indicating that 87 percent of marketers now utilize YouTube to advertise their companies, it is critical to producing a professional-looking video in order to compete.
When done correctly, your intro video may aid in the development of critical brand recognition and familiarity.
Whichever intro creator you pick, make sure it allows you to create an intro that expresses the personality of your business and reflects your brand values. You could be taking your YouTube videos to the next level in no time with all of these tools at your disposal!