Manage your Contacts and Calendar with DejaOffice PC CRM - Complete sync system to Android and iPhone.
Free US Based Telephone Tech Support! Buy risk-free with a full money-back guarantee!
Personal Information Manager with Android and iPhone Sync
A fast and easy Contact and Calendar app for your PC Desktop
Just like old Palm Desktop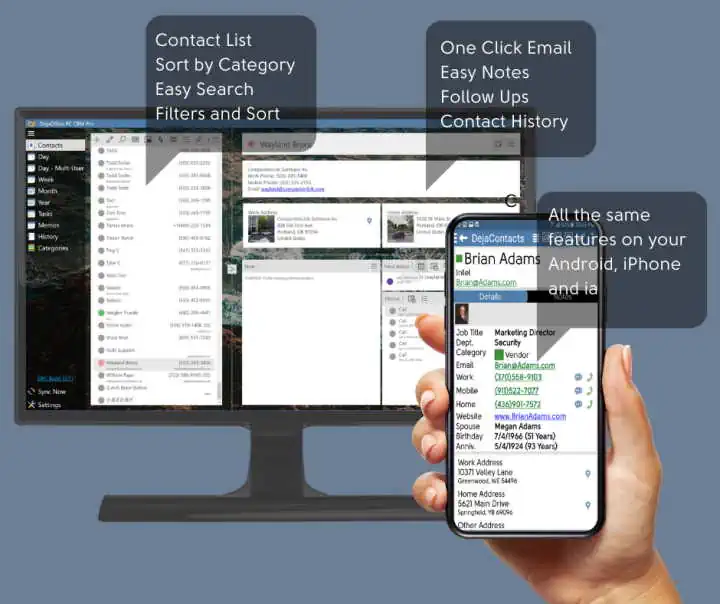 Use our Migration Guide to quickly move your Contacts, Calendar, Tasks, Notes, History, Categories, and Custom Fields to DejaOffice

We are committed to storing your data safely and securely on your PC. You own your data. You have complete control of it.
USB, Wi-Fi and Cloud sync options
One license for 3 computers; work, home, laptop
US Based Telephone tech support!
DejaOffice PC CRM Standalone
Free 14 day trial. Price $
69.95
Apps
Contacts:
Call, text, map and navigate.
Calendar:
Keeps your schedule and remind you.
Tasks and Notes:
Create, Prioritize, and Check Off tasks. Write and store notes to yourself.
Features
Colors:
Color code your schedule and lists, to easily handle your day.
Persistent Alarms:
Never miss a reminder with DejaOffice persistent alarms.
Completion:
Complete Meetings and Tasks to history stored for each Contact.
Benefits
Efficiency:
Use DejaOffice with Franklin Covey, Getting Things Done (GTD), MYOB, eProductivity, and 4 hour work week.
Templates:
Automate data entry tasks using Templats for standard Appointments, Tasks and Contacts
Local Data
Security:
your master database is on your PC in your home. Not on the Cloud
Backups:
Automatic backups on your PC and Phone.
Tasks and Notes:
Create, Prioritize, and Check Off tasks. Write and store notes to yourself.
Migration
Built-in Import:
DejaOffice will import from Outlook, Business Contact Manager, Act!, GoldMine, Zoho, Monday, Salesforce and Hubspot.
CSV File Support:
Import and export using standard CSV files.
Completion:
Complete Meetings and Tasks to history stored for each Contact.
Easy to Use
SQLite:
Based on SQLite which is an industry standard small and fast multi-user SQL server
Deployment:
The system automatically deploys on your server - even for multi-user configurations
Guaranteed
Money Back:
If you are not completely satisfied we will give you your back.
Hours:
7am-3:30pm US Pacific Time
Watch our 2 minute Video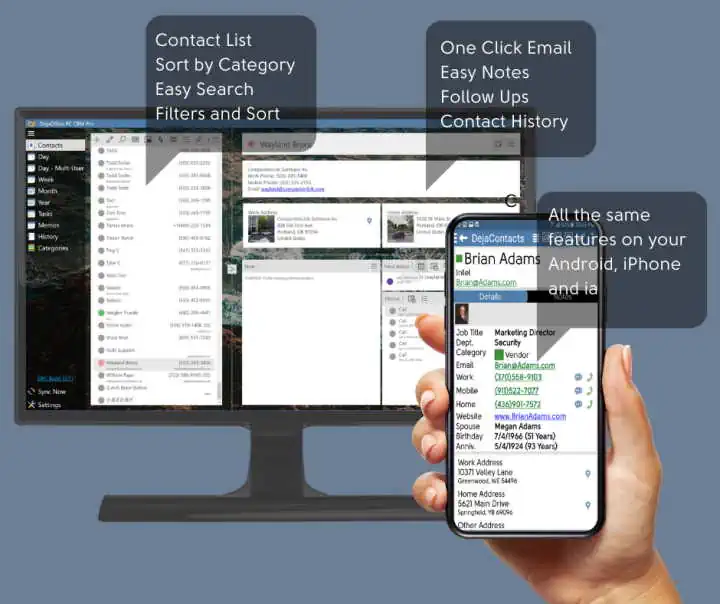 What is DejaOffice PC CRM?
DejaOffice PC CRM is a modern look for Contacts, Calendar, Tasks and Notes on your PC Desktop. With DejaOffice you can easily track all calls, meetings, tasks, emails and text with your customers, vendors, and associates.
Your Data securely stored on your PC
DejaOffice stores your main database on your PC and on your Phone. Although sync can be done using DejaCloud, the primary database is on your device. DejaPIM is not a Cloud based solution.
Buy it once, Own it forever
Your license purchase means that you own the software. Updates are free for that version of the software. It may come to pass that we make a new version with additional features, but for your version all bug fixes and feature updates are provided without charge. Of course, some people like subscription pricing which is why we have a subscription option.
Helpful Resources
Features of DejaOffice PC CRM?
Contacts, Calendar, Task and Notes
Expense, Deals (Opportunities), Followups, History
Sync to DejaOffice on Android and iPhone using USB, Wi-Fi, Bluetooth, DejaCloud
Free USA Based Telephone Technical Support
Does not require any Cloud, iCloud, or Exchange connection
90-day money back guarantee
One purchase for 3 PCs; work, home and laptop
Runs on Windows 7, 8, 10 and 11
Special Features of DejaOffice
Robust backup and restore - be assured your data is backed up
Category colors for every record - Color code your life, Green for money, Orange for family, Yellow for opportunity
Calendar Emojis - Your calendar should make you smile! Add smilies and puppies
Print Labels, Lists and Schedules
Portable License
Our competitors lock their license to your computer. So when you buy a new computer, you need to buy a new license. With CompanionLink you simply register the software on a new computer using your email address.
US based company
CompanionLink is located in Portland, Oregon. Our servers are based in New Jersey to take advantage of proximity to the East Coast, and the transatlantic cables to Europe. Our servers are high technology and really fast!
RunStart and Premium Support
With CompanionLink you can call us at (503)243-5200 for support, Monday through Friday, 7am-3:30pm Pacific Time. For those with special needs, use our RunStart Service gives you a one-time hands on session with a top tier technician. Our technician will log into your computer, set up the sync, and ensure you are completely satisified with the solution. If you want this service regularly, use Premium Support for a full year and up to five service tickets.
What makes our software unique
Free US-based telephone support
Full support for Categories and colors
Supports contacts, calendar, tasks, notes
USB, WiFi, Bluetooth, DejaCloud, and Google sync
Works with Android, iPhone, iPad
Full contact notes, contact pictures, alarms
Great Product and great Technical Staff.
Super service Great Product
tech support Companion standalone
Last modified: Aug 19, 2023 5:22 pm